Welcome to Harrison Group
Harrison Group Environmental is one of the UK's leading geotechnical and geoenvironmental engineering firms. We have been providing expert and cost-effective site and ground investigation services for 40 years through three divisions:
The services that we have to offer include:
Contaminated land evaluation and remediation

Soil, rock, water sampling and UKAS accredited testing.

Geotechnical consulting

Environmental monitoring, permitting and health impact assessment
Based in London, Norwich and Cambridge we work nationally for a wide range of clients. Regardless of whether it is a small domestic investigation or major project, such as the Olympic Park in London, we always aim to provide a high quality service, on time and within budget.
Case Study Focus – July 2017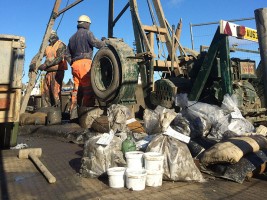 Great Yarmouth has a history of devastating floods, with major events in 1953 and most recently in 2013.
Flood defences have been upgraded on a number of occasions, with the most recent scheme completed in early 2016.
Harrison, working for contractor BAM Nuttall, carried out the ground investigation for design of new sheet pile walls and 94 permanent Single Bore Multiple Anchor (SBMA) ground anchors (installed by Keller Geotechnique) to support raised quay walls.
Harrison News
May 26, 2017

We are delighted to be supporting the great work of the Norfolk Wildlife Trust by becoming …
...Read More
April 10, 2017

A number of staff at Harrison Group kicked off the firm's 40th anniversary celebrations on 2 …
...Read More
January 3, 2017

I am delighted to be celebrating the 40th anniversary of the company I set up as …
...Read More
September 12, 2016

Harrison Group Environmental operates to Building Information Modelling (BIM) level 2. – an overview of our …
...Read More