Welcome to Harrison Group
We are one of the UK's leading geotechnical and geoenvironmental engineering firms, supporting a range of projects from single homes to major international developments and infrastructure schemes across the UK. Our services include:
Site and ground investigation
Contaminated land evaluation and remediation
Soil, rock, water sampling and UKAS-accredited testing
Geotechnical consulting
Environmental monitoring, permitting and health impact assessment.
Case Study focus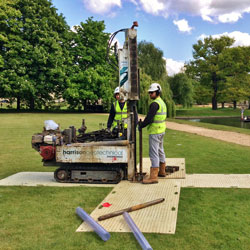 Harrison Group has carried out the ground investigation for installation of new Antony Gormley sculpture at Trinity College, Cambridge.
Tim Waters, Capital Projects Manager at Trinity College:
'I was very pleased with the service received from the Harrison Group. Important factors when procuring services from our sub-contractors for successful projects are reliability, communication, value for money and service delivery. The Harrison Group delivered on all accounts. Happy to work with them and continue our relationship into the future.'
Harrison News
April 9, 2019

Our in-house soils and materials testing laboratory UKAS accreditation has been renewed for another four years, …
...Read More
March 22, 2019

As part of its' Environmental Management System, Harrison Group is always working to minimise …
...Read More
December 6, 2018

We are celebrating 30 years of helping Maltese clients solve complex engineering challenges. "Our relationship with …
...Read More
November 25, 2018

Our approach to modelling archived site investigation data on a site with a history of chalk …
...Read More
November 14, 2018
We have updated our sampling and testing procedures, following a number of changes to geotechnical industry …
...Read More
October 20, 2018

We have been delighted to welcome four graduate geotechnical engineers to Harrison Group over the past …
...Read More
September 10, 2018

Improving Efficiency by Data Validation Our Project Inputting Tool (PIT) is transforming the way we validate …
...Read More