January 3, 2017
Chairman David Harrison Reflects
I am delighted to be celebrating the 40th anniversary of the company I set up as a 'one-man-band' in 1977 and which has grown to become a highly-respected business operating throughout the UK and in Europe.
Originally, the company was called Harrison and Company (Soils and Foundation Engineers) Limited, highlighting the two key aspects of the business: site investigation and specialist construction work (including piling, ground improvement, underpinning and other geotechnical processes).
The first decade was one of expansion, both geographically, with the opening of our Croydon office in 1985, and technically, with a number of highly-qualified geologists and engineers joining the company. These included Dr Allen Davis from Birmingham University, a pioneer in non-destructive structural testing; Eric Steger, foundation designer for iconic buildings such as the NatWest Tower and Centrepoint in London; and Malcolm Puller, author of the industry bible on deep excavations.
By the mid-1980s, it became clear that providing both guidance and construction services was mutually incompatible in many clients' eyes, so we decided (like many of our peers at the time) to sell off our construction division and to concentrate on geotechnical and geoenvironmental investigation.
In the early 1990s we also expanded overseas, establishing a sister company in Malta. We had been encouraged to do so by a Maltese geologist, Dimitrio Duca, and after more than a decade of waiting for a suitable project, we bid for, and won, a contract for the investigation of a quay in the Freeport. This job led to seven years of continuous work for the same client, and a multitude of other projects; and we are still working in Malta today.
Over the years we have been fortunate enough to have been involved in a wide number of large-scale or complex projects: the highest-value job was our £4M geoenvironmental investigation of London's Olympic Park; and projects of high complexity included the embankment design for the Kerewan River Crossing in the Gambia and Terminal Two of the Malta Freeport, amongst others.
A major change for the business came in 2001, when we became Harrison Group Environmental Limited. This reflected how the nature of our work had changed in the previous ten years, with increasing demand for geoenvironmental assessment and advice, as more and more developments were being built on marginal and contaminated land.
Another important event occurred in 2012, when global offshore survey company Gardline Limited invested a minority but sizeable stake in Harrison. This gave Gardline access to land-based projects but it also enabled us to offer a wide range of marine and offshore geotechnical and environmental services.
This anniversary has given me an opportunity to reflect on the last 40 years. I am proud that the company has continued to thrive, opening up new markets and employing ever-more people; and I pay tribute to the hundreds of staff who have worked for us over the years. Whilst many are still with us, some have moved on but without them all we would not be enjoying today's success.
It is also an opportunity to think about the future, which certainly looks bright under the leadership of our Managing Director Steve Williams, someone who is immensely experienced in all aspects of our business. I look forward to the next 40 years with anticipation and optimism!
David Harrison, Chairman, Harrison Group Environmental Ltd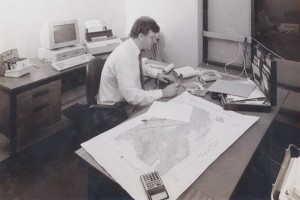 circa. 1985