November 27, 2019
Harrison wins Keynetix Data Management Award
After receiving a commendation in 2018 for it's application of data management to real-world ground investigation interpretation, Harrison Group went one better a year later.
On 25th November 2019, in a keenly fought competition, the company came out on top, for it's contribution in the category of Data Visualisation. 
The Data Management Team at Harrison Group has developed a process to improve reporting, convey the risks and results highlighted by a site investigation, which can illustrate the need for further investigation.
The Problem
Although standard borehole log information can be passed easily onto clients, our challenge was to find a way of sharing effectively 3D model data of the site and borehole findings.
This would provide, via a rapid turnaround, a far more comprehensive interpretation of the site and ground situation, accessible to all parties, irrespective of the software packages that they may or may not be using.
The Solution
Utilising the QGIS 3D modelling plug-in, the data management team at Harrison Group developed templates which take the ground information from HoleBASE SI and process it into the data structure that works most effectively with the plug-in.
Through processing within the QGIS 3D modelling software, the data is represented as a 3D Javascript model, which can be viewed through a standard web browser.
This can be further enhanced. Not only can soil strata be modelled in QGIS, but more complicated geologies can be accurately represented by applying the Civil 3D extension to the data and then transferring across.
The Benefits for Harrison Group
Ease of access. Office users can work with data by clicking on elements within the model.
As a result the ease with which such 3D modelling can be carried out, informed decisions can be made for targeting features of importance while our geotechnical engineers are still on site.
The Benefits for our Clients
Factual data can be provided rapidly and clients can interact with the 3D model, allowing some level of analysis often whilst drilling teams and engineers are still on site.
Should anomalies be highlighted, further investigation can be instructed at the time, providing cost and time savings for our clients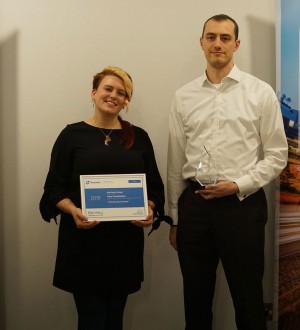 Rachael Leech and Conrad Stewart of Harrison Group